A man is suing the Catholic Church for $6 million, claiming it is vicariously liable for sexual abuse he says he suffered 50 years ago.
Key points:
Catholic Church defends $6 million claim over historic sex abuse allegations
Lawyers claim the Roman Catholic Diocese of Bunbury is responsible for the alleged actions of Father Kevin Johnston
Alan Rowe first raised the abuse allegations in 1996, which have been consistently denied by the church
Alan Rowe, 60, said father Kevin Johnston abused him when he was an 11-year-old altar boy at St Patrick's Cathedral in Bunbury, Western Australia.
Father Johnston died in December 2021 and the church has denied abuse took place.
In September, the WA District Court set a trial date for Mr Rowe's claim against the Catholic Church for December next year.
If successful, it will be one of the highest payouts made by the Catholic Church for a single case.
The case follows what lawyers said was the first successful decision against the Catholic Church for vicarious liability, in Victoria last year.
"No one would believe you"
Mr Rowe said he had spent more than 20 years trying to blame the Catholic Church for what he believed had happened to him as a child.
"Priests were pillars of society then – no matter what you said, no one would believe you," he said.
"I started doing drugs…I became a wild child."
Mr Rowe overcame a decade-long heroin addiction, before confronting Father Johnston in the 1990s, who denied abuse.
In court papers, lawyers for Mr Rowe said a letter Father Johnston later wrote to Mr Rowe in 1997 was in fact a confession.
"In light of everything that happened when we recently met, and having listened to your sad recollection of what happened in the early 1970s, as you remember the event, I regret sincerely for having been in any way the cause of so much grief for you," Father Johnston wrote.
"It is also a matter of deep sadness for me. I sincerely apologize and ask your forgiveness."
In 2005, the Catholic Church – still denying any liability – paid Mr Rowe an ex gratia payment of $15,000.
Mr Rowe said it was to be believed that Father Johnston was remorseful.
"He is forgiven – but the Catholic Church is not," he said.
Substantial claim for pain and suffering
Court documents show the claim was based on vicarious liability – specifically alleging that the Roman Catholic Bishop of Bunbury was responsible for the actions of his priest 50 years ago.
Mr Rowe was only able to act because Western Australia in 2018 lifted the three-year statute of limitations for alleged survivors of child abuse to bring civil claims.
Sydney lawyers Ross Koffell and Greg Choat said it was highly unusual for sex cases against the Catholic Church to go to trial, with most being settled out of court.
They confirmed that the claim was over $6 million.
Mr Choat said the claim was to cover loss of earnings and a substantial claim for pain and suffering.
"He is a very brilliant man, who had an exceptional future," he said.
Bishop declines to comment
The WA District Court did not allow the ABC to obtain a copy of the Catholic Church's statement of defense, but it is understood that the church continues to deny liability and does not admit any abuse of the from Father Johnston.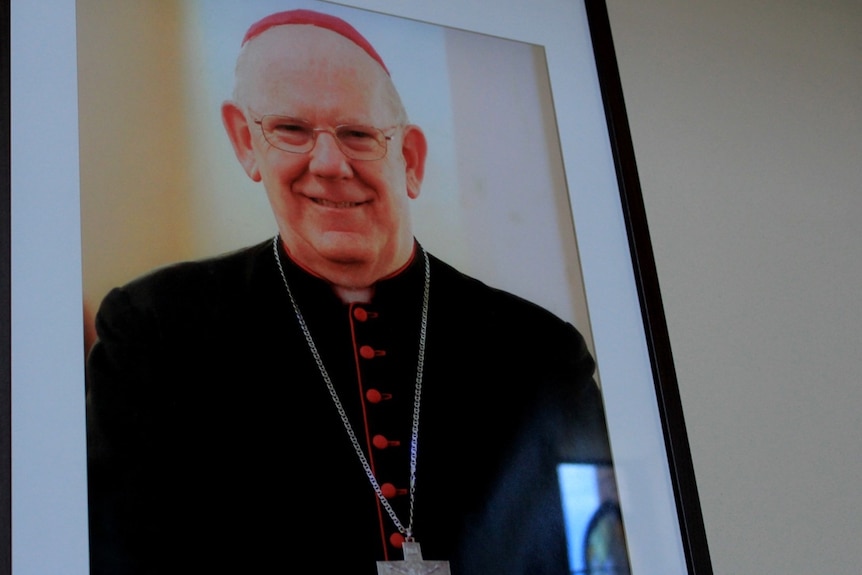 In an email, the Bishop of Bunbury, Gerard Holohan, told the ABC, given the legal proceedings, it was 'inappropriate to discuss the matter at all, and I refuse to do so' .
In 2008 he told the ABC that Father Johnston had strenuously denied sexually abusing Mr Rowe.
"Regarding the letter of apology, Father Johnston has indicated on more than one occasion that this letter, written without specific context, is not an excuse for any action of abuse," Bishop Holohan told the time.
A big claim on "a big problem"
Mr Rowe said he was relieved that a trial date had been set.
"It's a big claim, but it's also a big deal," he said, of the $6 million figure.
"It was a long, traumatic and drawn-out event, but now that the trial date has been set, it has become a little easier.
"We know there is a finish line."