Becoming a Catholic priest would not be considered an acceptable career choice for most young men these days.
But as Australia's youngest priest, Father Nathan Webb, 24, challenges the stereotype about the priesthood.
"If I go to schools and ask what a priest is, they say, 'He's an old man in a white robe who reads a book on Sundays,'" Father Nathan said.
"That's not inaccurate, but that's not all it could be.
"It's refreshing for me and for them, I think."
After years of dedicated study, Father Nathan was ordained into the Catholic Diocese of Toowoomba earlier this year.
He admits the job so far has been a bit of a rollercoaster.
"It's strange to say, but I really like funerals," he said seriously.
"I'm happy to hold on to death and be honest about it. Baptisms are fine too, but I've done everything from kicking a soccer ball with school kids to sitting with the family at the end of the life of their loved one.
"It's an adventure."
Australia, like other countries, suffers from a severe shortage of priests. Father Nathan therefore believes that his youth is a strength in a job dominated by older men.
"I'm just a bright-eyed, bushy-tailed 24-year-old boy, what would I know of life?" he says.
"I've spent years studying to give myself the best chance at ministry, but I'm not going to claim to have all the answers."
Serve God in his blood
Serving God seems to be in the blood of this strict Catholic family, with one of its 11 siblings a nun and another a Capuchin monk.
Father Nathan remembers first thinking about the priesthood when he was just five years old, but it was a decision that was cemented many years later.
"When I hit my teens, I thought mom and dad wanted me to do this, so maybe I don't because who wants to do what their parents think they should do?" he says.
"I went to TAFE and did some gardening. I loved it. I can walk around and say weird facts.
"I went to college and did music and then English literature and business law, but in all of that I thought it wasn't quite where I needed to be. "
Yet Father Nathan knows the sacrifices that come with choosing a celibate life.
"I didn't go into it naively. I think that's part of it, offering something and relying on God," he says.
"I also let others know that there is hope and peace in life without a significant other. I am still fine without a partner.
"There is a difference between being alone and being alone."
While Father Nathan's journey is still in its infancy, Toowoomba's senior priest, Hal Ranger, has witnessed 64 years of change within the Roman Catholic Church.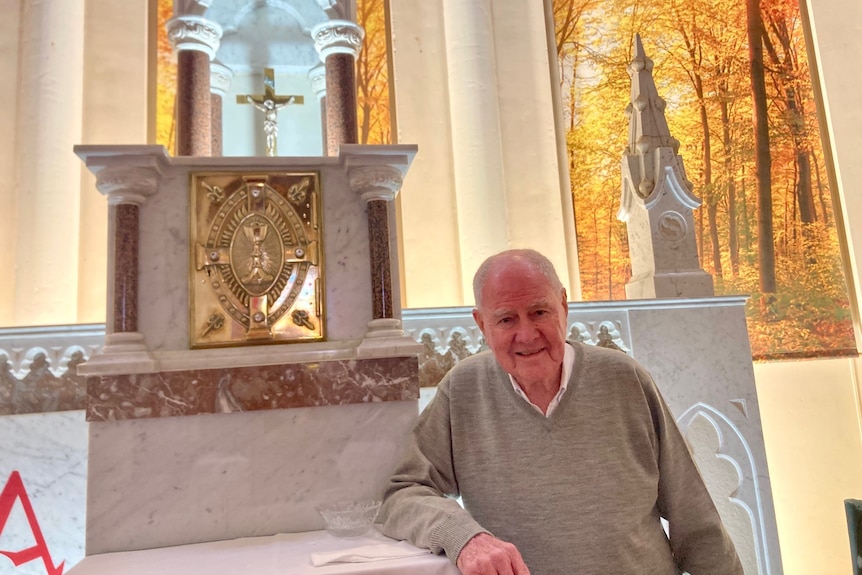 Father Hal may not be Australia's oldest Catholic priest but, at 87, he has his own ideas about the Church's place in the modern world.
At St. Patrick's Cathedral, where he is an associate pastor, Father Hal leads mass, or "team meetings" as he calls it.
"The game is out there in the world," he said.
"You bring the team together to realign with the spirit of the team, listen to the word of God and talk a little about it.
"Then you go out to experience that in real-world detail."
After 64 years, still devoted to the Catholic Church
Father Hal attributes his reluctance to retire to a meeting many years ago with Belgian Cardinal Joseph Carijn, who was 88 when he told him: "If you have the health, the energy and a little adrenaline, so why not? ".
Like Father Nathan, the seeds of Father Hal's faith were planted when he was a young child.
He recalls his mother taking a job at the Willowburn Mental Asylum in Toowoomba to work with "broken and isolated people that the rest of the world wanted nothing to do with".
Father Hal says being there for "people struggling to find meaning in their lives" became a theme in his life, but also set him against the rigid traditions of the Catholic Church.
"There were times when I seriously thought about how I could really live meaningfully and peacefully and with energy in the system, so I kind of rebelled against that," he says. .
"But I was never tempted to throw the whole baby out with the bathwater."
Father Hal thinks the biggest barrier between the church and the people it wants to connect with are the churches themselves.
"It will come across as a bit of heresy, but I think the building we're sitting in and other church buildings and the institution the church has kind of locked itself into is almost alien to the 'Gospel,' he said. .
"I really don't think Jesus, if he were here today, would be building churches.
"If it's useful to bring large groups of people together, use the town hall. Once you've built something like that, I think it sends the message of being cut off from the rest of the world."
Despite his frustrations at times, Father Hal is adamant that the Catholic Church is "more flexible than probably 20% of Catholics would like."
"They resist it because it's exciting, but it's also scary to step out of clear parameters and treat each person and each situation on their merits," he says.
"But like all freedom, it's worth having."